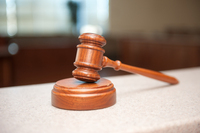 Judge Joe Brown, reality TV Judge, whose show aired from 1998 to 2013 was recently released after serving a 5 day jail sentence in Tennessee. The sentence stemmed from a courtroom incident in March 2014 in which Brown, now a lawyer in private practice, was representing a client in a child support hearing in Tennessee. An argument erupted between Brown and court employees over the case not being on the day's calendar of cases. Brown ignored the judge's order that he quite down, and after he refused, the judge found him in contempt of court and sentenced him to 5 days in jail.
Contempt is a peculiar crime in that the judge often immediately sentences the offender and they receive either a fine or even a small amount of jail time. There are various avenues one can pursue in challenging the judge's discretion in that matter. Nonetheless, it is often difficult to overturn a contempt finding. Judges are given such broad discretion in the interest of keeping order and maintaining a level of respect that everyone, including attorneys, must follow when coming before the court.
Deference before the court is important not only for the integrity of the justice system, but it is also an important advocacy tool. In my experience, I have seen litigants come before the court improperly dressed and addressing the judge as if they were casual friends. This will serve no purpose in furthering their case. Although it may feel good to verbally lash out at a judge who disagrees with your position, it will serve no purpose in furthering your case, which is the whole reason you are in court.
As an attorney, there have been many instances in which I felt like the judge is completely wrong and has already made up his or her mind as to my client's case. There is a part of you that wishes to break composure start laying into the judge. One may look at it as, "What does it matter at this point if the judge has already made up his mind?" It matters a lot since if things are not going your way, you will be back in court to fight another day and the deference (or disrespect) you showed will be remembered.
Whether you are an attorney or litigant representing yourself (acting pro se), you must always comport yourself in a calm and professional manner to the judge. This means dressing appropriately and resist all urges to start making faces or showing signs of displeasure when things are not going your way. The way you present yourself will speak volumes about you and help you win your case. We must not forget that judges are people too, and they have built in biases that will cause them to lean in favor of the side that shows them the utmost respect, oppose to the side does not. In a close case, it could very well make the difference.